The Ponderosa Center hosts many of its own events at the Ludwig Terrace, including the popular Tuesdays at the Terrace free summer concert series. But putting on its own events is just a small piece of the Ponderosa Center's mission. Providing a flexible space where local groups and non-profit organizations can host community events and fundraisers meets a big need in the community.  Events like Oktoberfest, the McCall Rotary Club's Mountain Brewfest, the McCall Winter Sports Club's Tree & Wreath Fundraiser as well as the McCall Chamber's Winter Carnival and Fall Festival events are a great fit for the existing outdoor venue.
"From the community perspective, it's really important to have a gathering place for art, for culture, for community gathering," says Anette Spickard who was an Oktoberfest attendee and is the McCall City Manager. "To have it in this location, where you're on the lake, with the magnificent view, this is an amazing thing to have."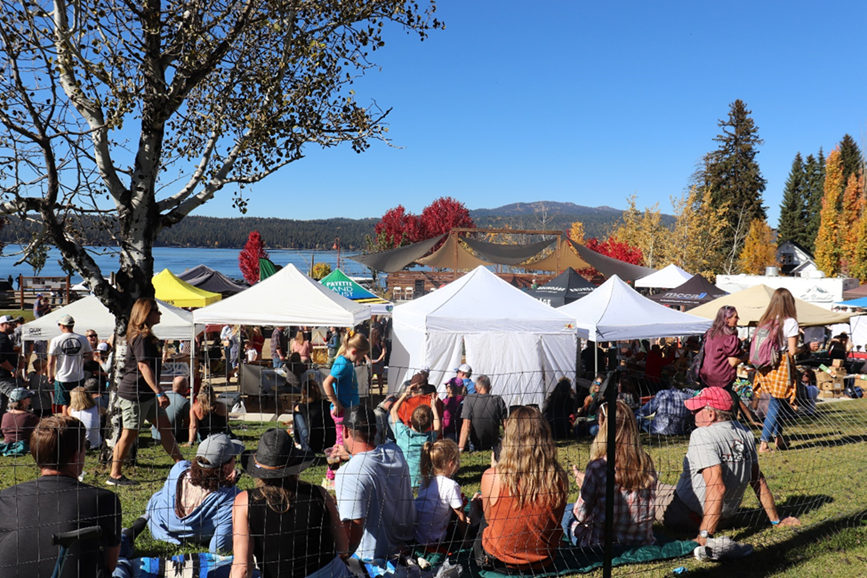 "I think all of our non-profits and our arts and humanities non-profits need the ability to gather and do fundraisers to get support and educate people about what they're doing here," adds Spickard. "The Ponderosa Center provides that, people know where it's located, it's easy to get to, it's great."
"I love seeing all the people and everyone here having fun without any of the restraints of work and just enjoying each other and the positive energy," says Spickard. "It's very recharging for the soul."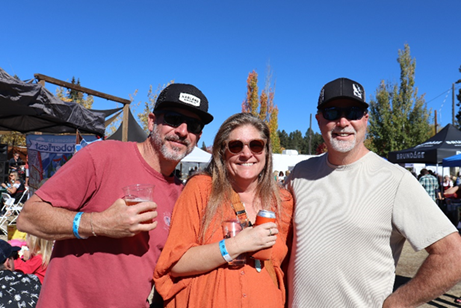 While the Ponderosa Center's existing outdoor venue is already serving previously unmet needs in the community, this is just the beginning of what the organization hopes to create for the people of McCall and the surrounding areas. The 501(c)(3) non-profit's primary goal is to build a 29,000 square foot facility that can provide a venue for a wide range of events and activities – 12 months a year.
A staple of "fall in McCall" for more than a decade, Oktoberfest has brought its Bavarian-inspired festivities to several different venues over the years. After a couple of years off for COVID and a couple of years at a venue a bit further from downtown McCall, McPaws Executive Director Amber Kostoff is happy to have the annual fundraiser back in the heart of downtown for 2023.
Known for an abundance of furry attendees (and humans sporting lederhosen), the McPaws Oktoberfest event has a long-standing history and a reputation for laid back fun and community mingling.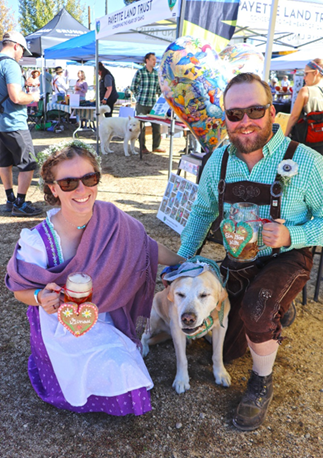 "The Ponderosa Center venue has been amazing because it's allowed us to get back into the core of McCall," says Kostoff.
"When it was out of town people had to know about it and make a point to come out to the event and in this location there's so much foot traffic. People who are out enjoying Downtown McCall are just hearing the music and wandering up and saying, "Heck, yeah, I want to come in and hang out," so that's been really great," says Kostoff.
It's not just the location that makes the existing outdoor venue such an ideal option for events.
"The layout is really nice because the huge stage is already there, and the space is really flexible," says Kostoff. "When you have a few great vendors to put in there you can arrange it so it feels bustling without being crowded and that makes it really fun."
Payette Lake is the backdrop for the venue, which has a large built-in stage and a flat open area, plus a grassy hillside around one edge. The view is unbeatable, well-behaved, leashed dogs are welcome and attendees can enjoy an adult beverage – but also bring their children.
"That grassy area is a great place for people to chill and enjoy a beer, there is also plenty of room to put in tables for seating and eating but also room to dance," says Kostoff. "The venue is really flexible, you can configure your event however you want."
Vendors we talked to agreed. For people like Courtney Cotter, who jumped at the chance to display her hand-knit hats at the Oktoberfest event, this venue is a blessing.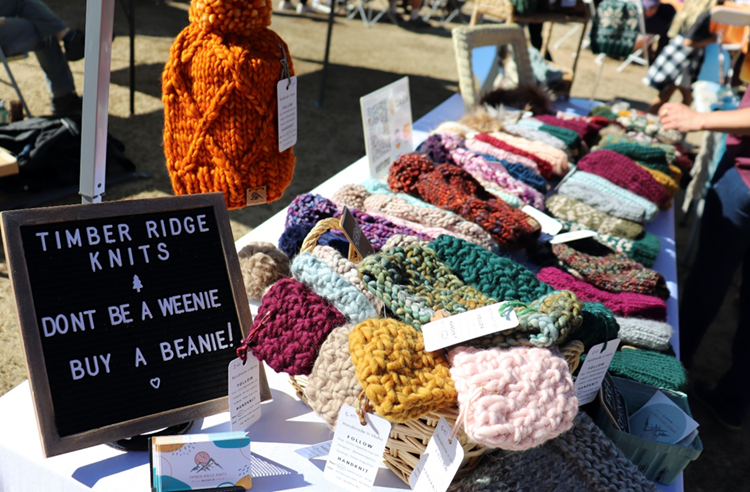 "This is such a great location right here in town. You're getting a lot of the traffic of the people who are walking by the lake, going to other businesses, just passing by, and this event draws them in," says Cotter. That foot traffic boosts sales of her Timber Ridge Knits creations, and she says the scenic location just adds to the fun of being there.
Designed with the input of the public and key community partners like the McCall Music Society, the building will have many features of a traditional Performing Arts Center, but its flexible design will also allow it to be used for classes, community and school events and conventions. The center will also be home to McCall Ski Heritage Foundation exhibits.
All building costs will be covered by private donations, with no tax dollars used in the Ponderosa Center's construction. The non-profit has raised more than $2 million to date for programs, events and the land purchase. The goal of the Ponderosa Center's continued fundraising and grant efforts is to secure an additional $25 million to complete construction and provide for initial operating costs.
"I'm all for it. Having a more formalized location broadens the opportunities for the use of the space. To have an indoor facility where you can have films, high school graduation ceremonies, music performances all year round would be fabulous," adds Spickard. "We don't have that now, and we deserve it."