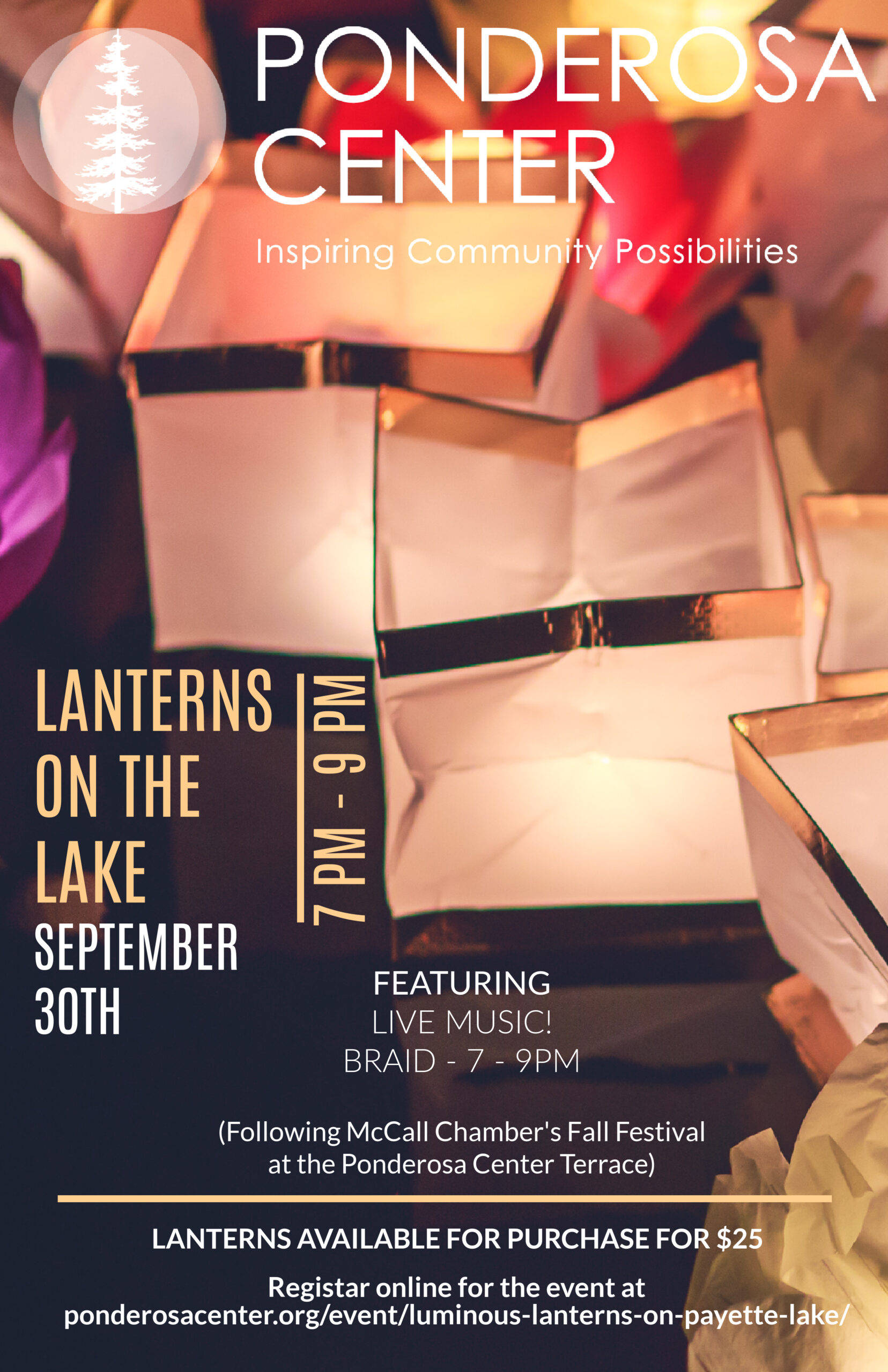 After the McCall Chamber's fall festival on September 30th, stick around the Ludwig Terrace for a wonderful event to celebrate the changing of seasons and reflect on summer experiences in your mountain community. Here are some key details and highlights:
Event Details:
Date: September 30th
Location: Ponderosa Center Terrace & Legacy Park
Time:

Live music from Braid 7 pm – 9 pm
Pick up preordered lanterns from 7 pm – 8 pm
Lantern release on Payette Lake 8 pm – 9 pm

Lanterns: Minimum donation request of $25 for your own white lantern.
Event Highlights:
Enjoy live music from Braid, creating a relaxing atmosphere from 7 pm to 9 pm.
Participate in the Lantern release on Payette Lake at 8 pm. This is a beautiful and symbolic way to give thanks for the summer season and make wishes for the rest of 2023.
Reflect on the mountain splendor and community spirit that you've experienced over the summer season.
Connect with your community and make new memories together.
This is a fantastic opportunity to come together as a community, celebrate the beauty of your town, and welcome the fall season with gratitude and hope for the future. Don't forget to mark your calendar and invite your friends and neighbors to join you at the Ponderosa Center for this special event!
Purchase Lantern Kit(s):

Inclement Weather Plan: 
The event will do its best to proceed with the scheduled activities, including the lantern release on Payette Lake.
However, if severe weather conditions, such as heavy rain, strong winds, or lightning, make it unsafe to launch the lanterns on the water, the organizers will prioritize safety.
One option may be to reschedule the event to a later date within 120 days. This allows for flexibility while ensuring that the event can still take place and community members can participate.
If a rescheduling is necessary, attendees should keep an eye out for updates from the organizers regarding the new date and any other relevant details.
It's important to always prioritize safety, especially in outdoor events.. Attendees should be aware of the inclement weather policy and be prepared for potential changes in the event schedule if the weather conditions are unfavorable.
Environmental Responsibility Plan:
We are taking proactive steps to ensure the event is environmentally responsible and leaves a minimal ecological footprint. Here's a summary of the eco-friendly practices:
Cleanup: Our team takes responsibility for cleaning up of the lanterns around or on the water after the event. This demonstrates our commitment to leaving the event location as pristine as it was before the festivities.
Lantern Materials: The lanterns are made from rice paper and wood, which are biodegradable materials. This choice minimizes the environmental impact of the lanterns. Rice paper and wood are natural materials that break down over time without causing harm to the environment.
Every effort will be taken to ensure that the event not only celebrates the community but also respects and protects the environment.